We're working on this page-just wait to see the cool stuff!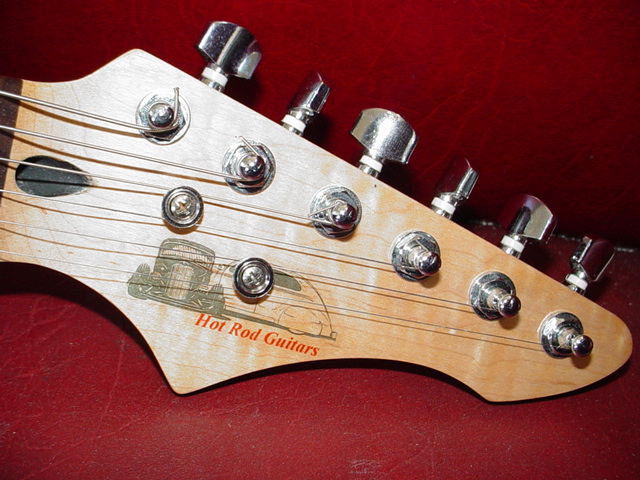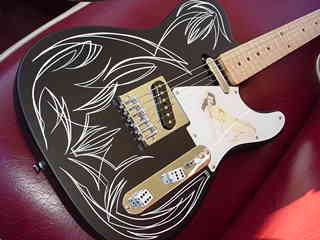 Another from our standard line-
See details below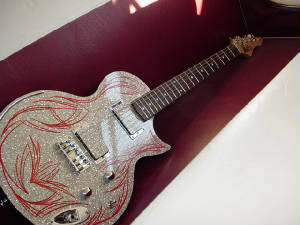 This was custom built-
Can we make one for you?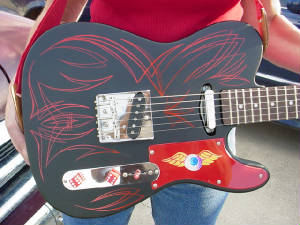 Cars,guitars,motorcycles,and Girls!! That just about summed up my life.It all ties in to the car culture thing.These guitars can be ordered in black primer,or many other colors.Not a true $1,000 pro guitar,but they play as well or better than what you can find at your local music store in this price range.With a little tune-up they can actually be a great player-$225 with one of Ron's super pro tune jobs with low action,or $189 as it comes out of the box.Use it as a one of a kind stage guitar,a car show prop,or a wall hanger.We can offer many different variations- -Kent Armstrong pickups,Fender pickups,pinup girls on the pickguards,your choice of string guages,and MORE! We are a dealer for W D Music parts,Bigsby tailpieces,Bigsby adaptors from ZZ Guitarworks and Vibramate,genuine Kluson tuning keys,Grover tuning keys,and many more guitar parts.