Rockabilly Chrome guitar
Hang it on your wall,or put it in your back seat
when you display your car at shows.
A great looking stage guitar.The chrome front adds some
flash,the tremelo tailpiece adds the Duane Eddy twang.
Plays extremely well,sounds fantastic!There are too many
details to list here,so e-mail for complete details on the
pickups,scale length,and all the other things that any guitar guy would want to know.
SOLD--but check our pinstriping section for more gutars.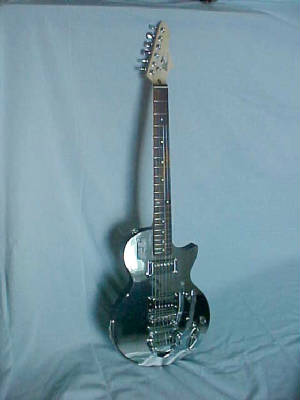 ********
We just found some old EELCO catalogs,
McCullough supercharger installation manuals,
Ardun conversion literature,and more !
Issue #1 Ol'Skool Rodz
Issue #1 & #2 Custom Rodder