These "guys" are Ron & Allie.
When she's not at her full-time job of of Ruler of the House,and Travis' mother, Allie operates our E-Bay store,Allie's Alley,where she has some of the very cooolest stuff for Rodders and Bikers. Ron was the shop manager at Hot Rod and Custom Supply for many years,but stayed behind when the business was moved to Kalamazoooo,Michigan this August.He couldn't leave his main job as guitarist with Uptown Express www.uptownexpressdoowop.com on the nights that he isn't going to cruise ins and car shows. That's us--- the Hot Rod Alley team. Together,we will try to always have the cooolest stuff for Rat Rodders,Bikers,Cruisers,and even some guitar stuff.
Allie & Travis on the cruise-in food line
----they like checking out the cars,too.
You gotta know who this guy is !!
The undisputed KING of the Drag Racers!
Don Garlits and Ron at the December 4th 2005
Fort Myers downtown car show.
Ron is the guitarist for Uptown Express,the 10 piece
Doo Wop group that headlined the show.
Ron had also worked at a rod shop that built Don
a flathead so he could recreate one of his
original cars.It is now on display at Don's
Museum of Drag Racing in Ocala,Florida,and
is the motor displayed on Don's line of T-shirts
Two very old bastards that don't
know when to stop doin' what
they do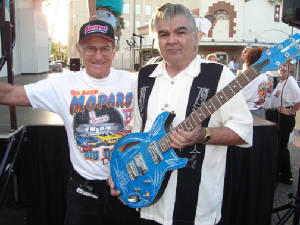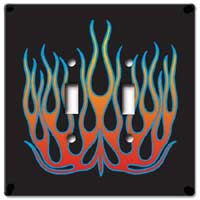 FLAMES WITH THE FLICK OF A SWITCH!
Want a safer version of the flamethrowers?
This is the same system that Bernie has.
Get in touch with us for flamethrower kits and convenient installation kits.